MORE TO SEE.
MORE TO HEAR.
MORE TO LEARN.
MORE TO SHARE.
MORE TO EXPERIENCE.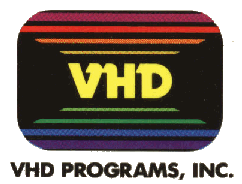 A Universe of excitement and entertainment from VHD Programs, Inc
VHD represents a significant NEW achievement in world entertainment technology. No videodisc system is more responsive, more sophisticated or more versatile.
But that isn't enough.
No one settles down in front of the TV set to watch two hours of technology.
Breakthrough engineering has to be matched with breakthrough programming.
And VHD programming is an experience that can't be matched. A new generation of entertainment - beyond the limits of movies, cable or broadcast television.

WELCOME TO WIDER WORLDS OF ENTERTAINMENT, EXCITEMENT AND EXPLORATION.

Other videodisc systems offer a variety of programming.
But VHD offers more.
Explore the VHD catalog, and you'll quickly see that VHD offers a more complete, more balanced range of entertainment. And in a broader, more interesting choice of categories.
Movies, theater, concerts, ballet, musicals, rock, pop & jazz, science, health, sports, personal and professional instruction, programs for children, games - the list touches almost every art, activity and experience.
The fact is, with VHD you'll find far more emphasis on programs of special interest.
Up to 28% more emphasis on entertainment variety than you'll find with other videodisc systems.
In fact, even in our movies there's a remarkable selectivity you'll find nowhere else.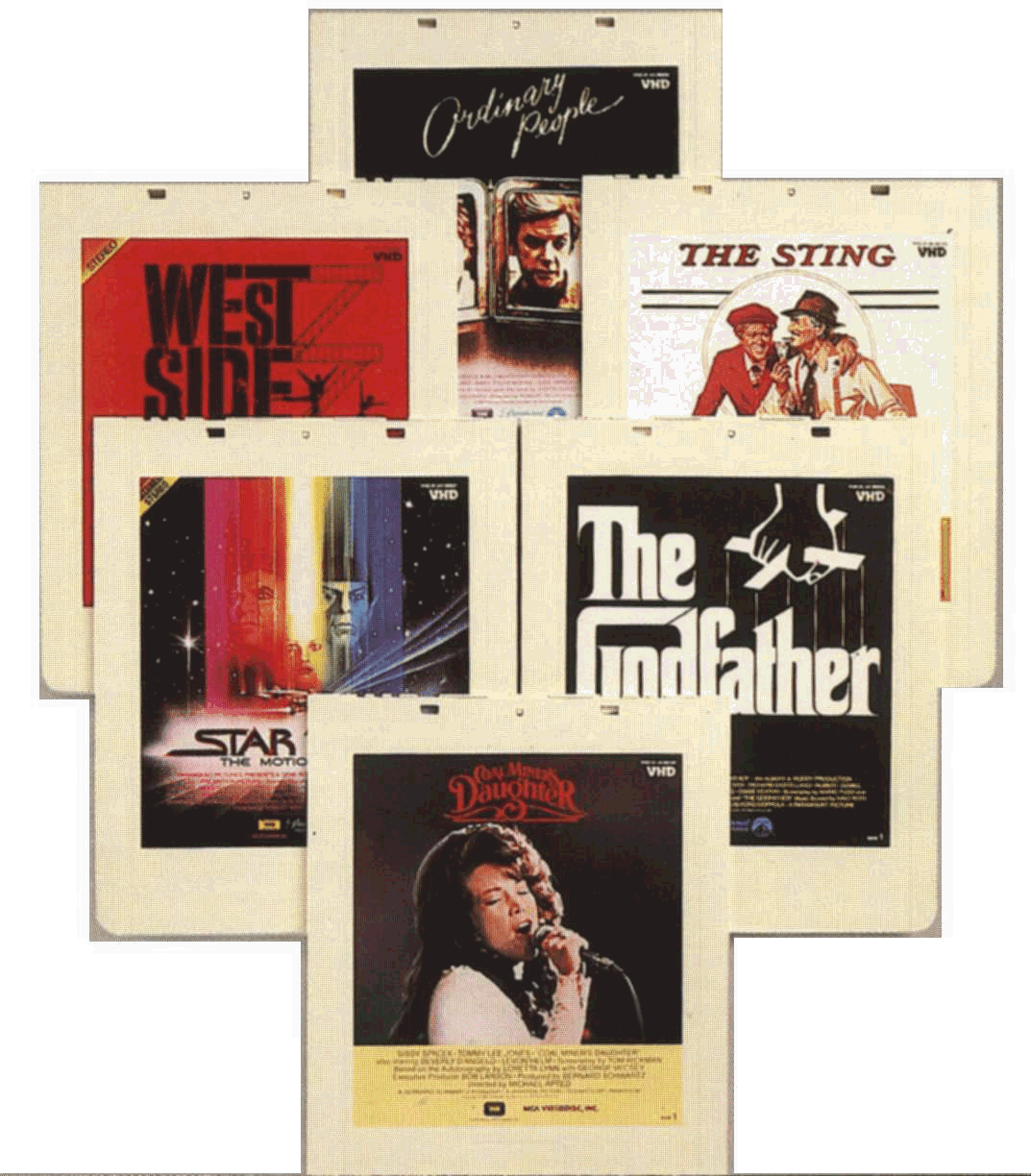 VHD MOVIES.
THE BEST, AND ONLY THE BEST.

In its own way, every film in the VHD library is a special achievement. These are pictures of special merit your customers will want to collect - and to enjoy again and again.
And whatever their taste or mood may be, there's a VHD movie to fill the bill.
Many are premiere films - major hits from the most important studios and producers.
There are powerful adventures like "Apocalypse Now."
There are comedies like "Animal House" and "Annie Hall."
There are smash musicals like "Grease."
There are Westerns like "The Long Riders."
There are ageless classics like "The Long Voyage Home" and "Stagecoach."
There are foreign masterpieces like "La Cage Aux Folles."
There are sci-fi thrillers. And horror chillers.
And remember this.
As selective as our film collection is today, today is just the beginning. The VHD movie catalog will be continuously and generously expanded with major new hits, special performances and important classics. But with only one kind of film. The best.

MUSIC TO YOUR EARS - AND EYES.

Yesterday your living room was a movie theater. Today, with VHD, it can be a concert stage.
The hottest rock groups.
The giants of jazz.
The legendary pop entertainers.
The great virtuosos from the world of classical music.
And the brightest stars of the Broadway stage.
You'll see them all as though you were actually there, as close to the performers as you can possibly be.
And it's not only what you see on VHD. It's what you hear.
With your stereo plugged into your VHD system, the concert sound floods the room in all of it's hi-fidelity color and brilliance.
Of course, there are differences between VHD and a live performance. You don't have to scramble for tickets. Or battle the crowds. Or worry about parking.
Instead, you can just sit back and enjoy it all in the comfort and security of your own home.

SEE IT FROM RINGSIDE, THE BOX SEATS, AND THE FIFTY YARD LINE.

The VHD catalog is a treasury of great sports highlights. And great sports instruction - taught by the pros. Football, boxing, golf, racquetball, tennis. It's all there for the VHD sports fan.
The sports courses and classics he wants to see. Whenever he wants to see them.

NEW CHALLENGES, NEW SKILLS, NEW DISCOVERYS.

Learn the secrets of photography from the experts.
Get back in shape - discover how to stop smoking. How to diet. And how to exercise.
Explore the world of fine wines.
Find out what breaks around the house. And how to fix it.
Learn how to decorate.
Check your personal financial growth.
See how much faster you can really read - and really enjoy.
With VHD programming, you can discover all of this. And much, much more.
In fact, special programs in the VHD catalog can help you understand and appreciate the most important subjects of all.
Your own needs.
Your own development.
Your own strengths. And resources.

SOMETHING FOR THE WHOLE FAMILY. WITH THE WHOLE FAMILY.

Cartoons for the kids. Sporting events for dad. Cooking classes for mom.
With all thats available in the VHD library for people to enjoy by themselves, there's still more for them to enjoy together.
In almost every category, you'll find material that's certain to capture the family's interest, excite the family's imagination, and inspire the family's understanding.
Which makes VHD more than something to own.
It's something to share.

THERES MORE TO SEE ON VHD.

NOW PLAYING ON VHD.
No other videodisc system offers a more complete, more balanced variety of entertainment in a broader, more exciting range of categories.

PREMIERE FILMS

Dragonslayer
Eye of the Needle
First Monday In October
The French Lieutenant's Woman
Mommie Dearest
One from the Head
Paternity
Ragtime
True confessions

RECENT FILMS
Airplane
American Gigolo
Apocalypse Now
Atlantic city
The Black Stallion
The Blue Lagoon
The Blues Brothers
Bustin' Loose
Cheech and Chong's Next Movie
The China Syndrome
Coal Miner's Daughter
The Electric Horseman
The Elephant Man
The Four Seasons
Hair
The Jazz Singer
Kramer vs. Kramer
La Cage Aux Folles
The Long Riders
Nighthawks
1941
Ordinary People
Popeye
Raging Bull
Rocky II

The Seduction of Joe Tynan
Seems Like Old Times
Smokey and the Bandit II
Star Trek
Stir Crazy
Thief
Urban Cowboy
When A Stranger Calls
Xanadu

MOVIES
American Graffiti
Animal House
Annie Hall
The Apartment
California Suite
Close Encounters of the Third Kind (Special Edition)
Fiddler On the Roof
For Pete's Sake
Godfather
Godfather II
Grease
house Calls
Jaws
Jaws 2
Jesus Christ Superstar
Lenny
Marty
Midnight Express
Mission Galactica: The Cylon Attack
Murder By Death
The Owl & The Pussycat
The Pink Panther
The Pink Panther Strikes Again
Rocky
Same Time, Next Year
Saturday Night Fever
Sgt. Pepper's Lonely Hearts Club Band
Smokey and the Bandit
The End
The Sting
Up In Smoke
West Side Story

FILM CLASSICS
Foreign correspondent
History Is Made At Night
I Married A Witch
The Long Voyage Home
Stagecoach
To Be Or Not To Be

THEATRICAL/MUSICAL PERFORMANCES
Peter Allen In Concert
America Live In Central Park
April Wine: The Nature of the Beast
Claude Bolling: Concerto for Classic Guitar and Jazz Piano
with George Shearing and Angel Romero
Kim Carnes
Castles and Concerts
Sheena Easton
Duke Ellington In Mexico
Eubie!
Fleetwood Mac
Dizzy Gillespie At Lincoln Center
Liberace In Concert
The Little River Band
Paul McCartney and Wings Rockshow
'The Mikado
Gerry Mulligan In New York
Juice Newton
Olivia Newton-John
ltzhak Perlman In Concert
Pippin
Cliff Richard
An Evening with The Royal Ballet
Leon Russell
George Bernard Shaw's Candida
Paul Simon
Swan Lake
The Tubes
Jethro Tull
Bill Watrous and The Refuge West Band Live

HOW TO/INSTRUCTIONAL
Blackjack
A Chinese Cooking Course
First Aid
How to Avoid Being Cheated At Cards
Steve Strandemo's Racquetball Instruction
Woman's Health and Medical Guide

CHILDREN'S FUN AND LEARNING
The Cricket Series
How I Look/How I Feel
Most Valuable Player Games
The Muppets In Frog Prince/Hey Cinderella
The Muppets In The Muppet Musicians of Bremen/Emmet Otters Jug Band Christmas
Things to Do On A Rainy Day

SPORTS ENTERTAINMENT
The NFL's Best Ever Series

COMING ATTRACTIONS
Watch for these additional exciting 1982 VHD program titles available soon!
RECENT FILMS
Prom Night
Watership Down

MOVIES
Bananas
Breakout
Carrie
Coming Home
The Deep
Everything You Always Wanted To Know About Sex
Frenzy
Fun With Dick and Jane
Gator
The Great Train Robbery
Hang 'Em High
The or e Soldiers
The Hospital
The Jerk
Let It Be
Psycho
Revenge of the Pink Panther
Semi-Tough
A Thousand Clowns
Torn Sawyer
What's New Pussycat?
Which Way Is Up?
The Wiz

MUSICAL/THEATRICAL PERFORMANCES
The Beach Boys
John Curry's Ice Dancing
The Dance Bands
Sheena Easton
Gillespie/Mulligan/Roach
Yehudi Menuhim Plays The Four Seasons
Eugene O'Neill: A Touch of the Poet
Eugene O'Neill: Ah Wilderness
Eugene O'Neill: Beyond the Horizon
A Profile of Itzhak Perlman
The Best of Queen
Max Roach
Rostopovich Plays Dvorak
Billy Squier
A Taste 0' Honey
Tennessee Williams: Eccentricities of the Nightingale

HOW TO/INSTRUCTION
Basic Cooking. Continental
Basic Cooking: U.S.A
Dieting With Weight Watchers
Do-it-Yourself Decorating
Exercise
Golf Instruction
Looking Good
Parenting
Personal Financial Growth
Photography for Beginners
Photography for Intermediates
Smokender's Course
Speed Reading
Tennis Instruction
The Weekend Handyman
Wines

CHILDIIIIEN'S FUN AND LEARNING
Basic Math Skins
Basic Reading Skins
Basic Spelling Skills
Dr. George On Science
Mr. Rogers On Feelings
Mr. Rogers On Health
Mr. Rogers On School

SPORTS ENTERTAINMENT
The Ali Show
Best of the Heavyweights
Best of the Middleweights
History of the Heavyweights
The NFL's Best Ever: Quarterbacks and Runners
The NFL's Best Ever: The Professionals
Sugar Ray Robinson
Teams and Coaches
You're the Coach

GREAT DOCUMENTARIES
The Man Who Loved Animals
The Predators
Wild Babies

Program titles and availability subject to change without notice.

All comparisons and statements are based on information published or available as of
December 1, 1981.

VHD Programs, Inc
9123 Sunset Boulevard Los Angeles, CA 90069
(213) 276-7718
©1982 VHD Programs, Inc. All Rights Reserved